What is Street Latin?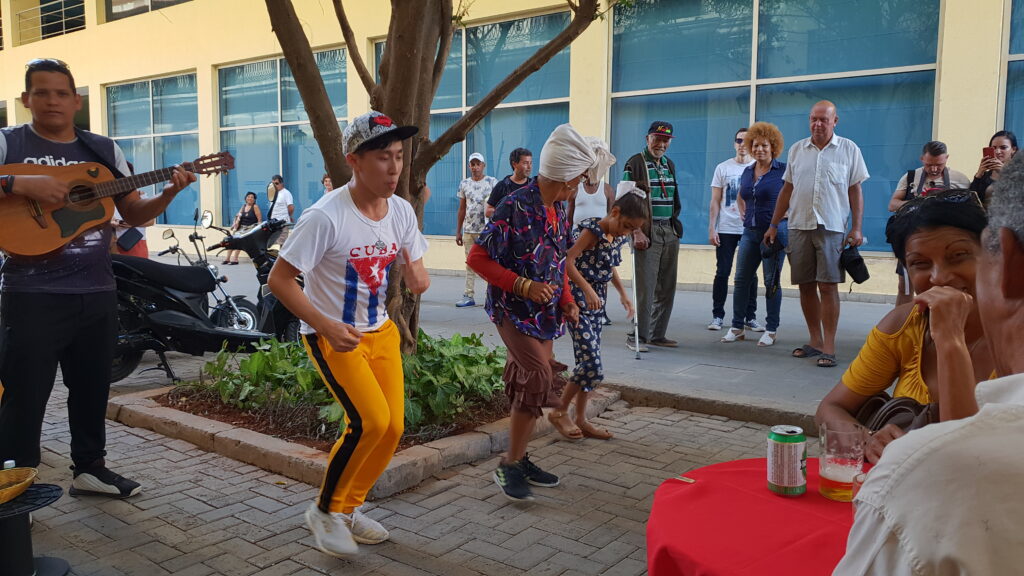 "Street Latin" refers to a collective term for Latin dances that originated off the streets and clubs in mostly Latin American countries. It is usually danced in a freestyled manner between 2 individuals, whereby one person will lead the dance and the other would follow. This freestyle dancing is also known as "social dancing" in today's context. Examples of Street Latin dances (not limited to) are Salsa, Mambo, Bachata, Merengue, Cha Cha Cha, Brazilian Zouk, Argentine Tango etc.
The term "Street Latin" was first introduced and coined in 2008 by Mr Gary Foo, the renowned Artistic Director from En Motion Dance School. During the early 2000s, where dances like Salsa and Bachata are still very uncommon in Asia, newer dancers always confuse Latin Ballroom (Dance Sports) with the more social and free-spirited interpretation of Latin dances. People often question if Salsa is considered a Latin dance because it is not under the 5 dances (Rumba, Cha Cha, Jive, Pasa Doble, Samba) listed in Latin Ballroom competition.
Thus, to avoid this confusion, Gary Foo created this term, "Street Latin" and rebranded Salsa as Street Salsa under his school, En Motion Dance School. The word "Street" is to bring out the nature of these types of Latin dances which are casual yet stylish.  It can be danced to both classic and modern pop Latin hits.
In 2011, in an effort to promote "Street Latin dances" and give a stronger identity in Asia, En Motion Dance School organized the first-ever International Latin Bachata Festival in Asia. This was later rebranded as Singapore International  Latin Festival (2013 – 2020).
It was one of the first major Latin Festivals organized during those days that combined multiple Street Latin dances like Salsa, Bachata, Mambo, Cha Cha, Merengue and Zouk in a single event. The festival had more than 1500 participants from all over Asia and was featured in the media headlines – "Latin Street Sensation"  with coverage from Channel News Asia in 2011 and 2013.
After years of effort in pushing and promoting in Asia, the term "Street Latin" is now widely adopted and continues to grow in the rest of the world and can be found in even Wikipedia.
LOOKING TO TRY LATIN DANCE FOR THE FIRST TIME?
En Motion Dance School is Singapore's largest and most award-winning Street Latin Dance school. We firmly believe in teaching and dancing for the passion of the Dance, helping our students spark joy in trying brand new experiences.
Join us for our monthly trial Salsa and Bachata dance classes!
En Motion's Latin dance classes are taught in our professional dance studios by a pool of professional instructors with 9 x Asia Latin Champions and top 5 World Championship placings under their belts!
If you are looking for the first step to kick start your dancing life, En Motion is the perfect place for you to jump into the fun and excitement of the Latin Dance world. Sign up for a trial class now!