Meet the young and dynamic instructors of our dance academy. Each instructor have many years of dance experience in Salsa, Bachata and other Latin dances. Trained in the En Motion style of keeping the class fun without compromising technique and fundementals, the instructors are equipped to teach classes of adults, and cater for younger students in the class as well.
GARY FOO - Artistic Director
Gary holds a 2nd Class Honors Bachelor's Degree from the NTU business school, but his passion is always in dance. Coming from a dance background of Latin Ballroom, Street Jazz and other dances, Gary was first introduced to Street Salsa in 2002 and has never looked back since.
His unique and showy dance style had brought him recognition in the Street Latin scenes around the region and he was the choreographer and competitor for En Motion Dance Crew in 2012 World Salsa Championship (Team Category) whereby the crew achieved 5th placing, the highest placed Singapore Team in the Championship. More recently, Gary had won the 1st Runner-up in the prestigious World Latin Cup 2013 Professional Bachata Category Asia Qualifier.
Widely known for his candid character and humorous teaching style, Gary have been invited to teach, choreograph and perform in various nationwide events like Chingay and International dance congresses in San Francisco, Sydney, Hong Kong, Bangkok, Taipei, India and more.
Gary was also voted 2nd Runner-up for the Best Instructor in Singapore for the SalsaSingapore Choice Awards Ceremony. His teachings had since benefitted many and his students had gone on to win Salsa Champion titles and start their own dance teaching career. Under his coaching, his students had also clinched numerous International and National level championships.
PAGE - Senior Instructor & Principal Dancer
A chance encounter with his cousin taking Salsa lessons started him learning the dance. Loving the free style partner dancing nature of Salsa, Page moved on from a new comer to one of the most recognized performers in Singapore
Page placed 2nd-runner up and Champion in the 2010 & 2011 Inter-Tertiary Salsa Competition respectively. He also had the honor to represent Singapore with En Motion in various International Dance Festival to countries like Bangkok, Sydney etc. He was also invited to guest appear on national TV as a dancer in a Mediacorp Serial Drama – "Happy Birthday" starring alongside Chen Hanwei and Paige Chua.
Page was also part of the En Motion Dance Crew which achieved 5th placing in the 2012 World Salsa Championship – Team Category
With his partner MUNKz, they clinched Champion of Asia Bachata Championship and represented Asia in the World Bachata Championship finals 2013! They were crowned Champion for Asia Bachata Championship for the 2nd time in 2015.
For Salsa they have also achieved 1st runner up in the Asia Salsa Championship 2014 and and 1st runner up in Asia Salsa Championship 2015
Never giving up was his key to transforming from a mediocre dancer into the confident dancer he is today. Page is thankful for where dancing has brought him and he continues to keep his passion burning in Street Latin dancing
RABIN aka RAQUITO - Senior Instructor & Principal Dancer
Rabin's strength and power has made him one of En Motion Dance Crew's most explosive dancers. As one of the most senior members of the crew, Rabin has grown into the power house dancer he is today through hardwork and perseverance. With the crew, he has performed in Sydney and many local dance events such as the Singapore International Salsa Festival, Singapore International Latin Festival, and the Esplanade Dans Festival, as well as for national TV.
He has also represented En Motion in competing in the Asia Bachata Championship and achieved 2nd Runner-up in 2012.
With his years of experience, Rabin imparts to his students the technique to incorporate explosive power in their dancing.
CHEN MUN - Senior Instructor & Principle Dancer
VIVI - Senior Instructor & Principal Dancer
Stemming from her obssession with perfection, Vivienne fused her years of experience as a musician together with her impassioned focus on dance to bring together many to embrace Latin dance and Zouk as an artform and making it the new black.
Her fluidity and sensual form compounded by her inate ability as a music professional to translate the cacaphony of nuances of the highly charged Latin Salsa music and the sensuality of Bachata and Zouk makes her one of the most captivating and mesmerizing sights to grace the local and international dance scenes. Together with the team, she has performed, taught and competed in dance events including,
-Singapore International Latin Festival
-Singapore Latin Championship
-Esplanade Dans Festival
-International India Dance Congress
-Colada Latin Dance Congress (Bangkok)
-World Salsa Championship (HK)
-Bailando Sensual Festival (Sydney)
as well as having been featured on U-weekly Magazine, Nüyou Magazine, Got To Move media platform by National Arts Council and Channel News Asia. Her many accolades also includes having represented En Motion in,
-Asia Bachata Championship and clinched the Champion title in 2014.
-Singapore Latin Championship and clinched National Open Salsa Champion title in 2016
CECILIA - Senior Instructor & Senior Dancer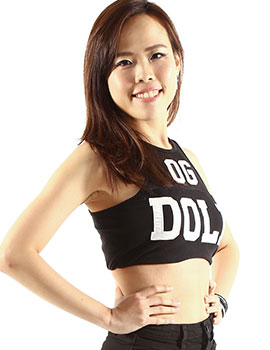 Cecilia has been part of the En Motion Dance Crew since 2008 and performed with the crew for overseas dance festivals in Bangkok and Sydney as well as many local events and festivals such as the Singapore International Salsa Festival, Singapore International Latin Festival and Esplanade Dans Festival. She has also appeared in national TV and The Sunday Times.
Always with a smile on her face, she enjoys teaching and helping ladies to bring out their confidence, beauty and sexiness in their dancing. She is often seen at the social dance floor interacting and dancing with her students.
ANGELA aka BOK BOK- Senior Instructor & Senior Dancer
Angela, affectionally known as Bok Bok started Ballet, Chinese and Modern dance at the age of 7 – setting a strong foundation for her dance career at an early stage. Her insatiable thirst for dance brought her to pick up a plethora of new dances like Hip Hop, Jazz and Contemporary. At the age of 17, she had her first encounter with Salsa at a local dance school where she fell in love and never looked back. When she was 18, she spent a year in China teaching, competing and performing. Till date, she has competed and/or taught a wide range of dances in Singapore, Hong Kong, Guangzhou, Shen Zhen, Malaysia and Vietnam.
Angela is known for her flexibility and her effortless styling on the dance floor. At En Motion, her classes are very always full of energy making her class a joy to attend. In addition, she is also known for her intricate details in dance and the ability to explain and break down complex movements into easy steps for her students. Aside from being one of En Motion Instructor and Senior Dancer, she is also a freelancer yoga instructor and a full time financial services consultant.
NICK - Instructor & Senior Dancer
Nick first came to know Street Latin Dance when he was in university. He quickly rose through the ranks, becoming the club's Dance Captain in his 2nd year. As he stayed on to help the team grow, so did his passion for the dance.
A flashy performer, Nick has showcased himself at different levels, including national as well as international shows with En Motion Dance Crew.
Taking inspiration from well-known dancers such as Nery Garcia and Tropical Gem, Nick has a flair for sharp and eye-catching moves, with a special emphasis on styling.
He believes that dancing is not just about knowing the moves, but also executing them well.
"A family that dances together, stays together. " – Nick
JAX - Instructor & Senior Dancer
Without any prior dance background, Jax attributes his dance achievements today to his hard work, passion and great teachings from his mentor, Gary Foo.
His first exposure to Street Latin Dance happened during his 3rd year in University and he swiftly rose to become the club's Dance Captain the following year.
In 2014, he won 3rd runner-up position in the Inter-Tertiary Jack & Jill competition and he also took part in the Inter-Tertiary Salsa competition. He has since participated in a reality dance competition and numerous shows at an international level .
Like how he first got to know Street Latin Dance and subsequently fell in love with it, Jax hopes to be able to inspire other dancers to know more about this dance form and the social dancing scene. His style of dance is soft but firm, with a sensitivity to feeling and connecting to the music.
"Feel the music and let it guide your body" Jax
LEENA - Instructor & Senior Dancer
Dancing has always been in Leena's blood. Whenever there's music playing, you'll always find her instinctively dancing to the beat! She took her 'baby steps' in Salsa at En Motion in 2012 and has been living her crazy passion for Latin dance since. She has performed in various festivals, including Singapore International Latin Festival, IIDC- India International Dance Congress, and Esplanade Dans Festival, among others.
With a background in Indian classical dance, Leena also enjoys pole fitness, belly dancing, Zouk, Bachata and Hip Hop.
Her style of dancing comprises of sensual movements, flanked by her sharpness and flair. To Leena, there is nothing more important than feeling the music and letting it flow through her movements. To her, dance knows no boundaries and no limits. It is beyond race, religion and age. Dance is an art, expressed from the heart to the world. In short, dance……is happiness.
Her passion and warmth in her lessons always make her students feel comfortable to approach her for help.
WEN XIN - Instructor & Senior Dancer
Wen Xin is one of the few home-grown "student-turned-instructor" having started her first street latin class in En Motion Dance School back in Dec 2011 with Gary Foo, En Motion Dance School's Artistic Director.
With hardwork and dedication, Wen Xin competed in the Asia Latin Championship 2017 and emerged champion in the Bachata Amateur Category.
She is known for her strong yet sexy style exuding confidence in her dance. Behind the sometimes "fierce-looking" facade, is a warm and friendly lady who is patient in her teachings. Newcomers will definitely feel at ease and seasoned dancers can expect to pick up more technical details in her classes.
Currently, she forms the core of En Motion Dance Crew's elite group of dancers- Los Bravos En Motion, and has competed and performed in various nationwide and international group competitions and performances.
– The Dance Floor Competition 2015
– IDO World Latin Championships (Korea)
– Que Viva La Salsa Congress
"Dancers are made, not born"
Wen Xin encourages everyone to step up and follow their dreams!
(P/S: She has a cute pet golden retriever named, Scarlette, whom you will sometimes see at En Motion's events as poster girl!)
GABRIELLE - Instructor & Senior Dancer
ALI - Instructor & Senior Dancer
Back in 2010, Ali Lujah was heavily introduced to Latin music in Guatemala and Colombia for 2 years. Social dancing was prevalent and he tried to dance in clubs without taking any dance classes.
During a short trip in Cali, he witnessed high quality salsa shows and decided that he should learn salsa. Shortly after, he moved to Singapore in 2015 and recalled his intention to learn salsa one day after passing by a Latin dance club. Ali Lujah signed up with En Motion soon and embarked on a enriching journey; 7 student team performances, 5 competitions (2 wins, 3 first runner up) later.
Ali Lujah even choreographed a very well received dynamic salsa group choreography for EM crew. With amassing the experience from so many performances with the EM crew and local Latin dance scene, Ali Lujah hopes to inspire more people to share his passion in dancing with his unique personal style.
ROSANNA - Instructor & Senior Dancer
Partner dances had always fascinated Rosanna. She discovered Street latin dance entirely by chance, and ever since, there has been no looking back.
Starting off from community club classes, Rosanna then moved on to NTU Salsa En Sync and was dance captain for 1.5years. At the same time , Rosanna joined the En Motion dance crew and embarked on an enriching journey of many performances ; 6 competitions (2 wins, 3 first runner up, 1 second runner up) , and also co-choreographed a salsa group choreography for the EM dance crew.
Rosanna hopes to be able to share her joy for Salsa and Bachata with people and inspire them to join us in this unique adventure .
JIA YING - Instructor & Senior Dancer