Salsa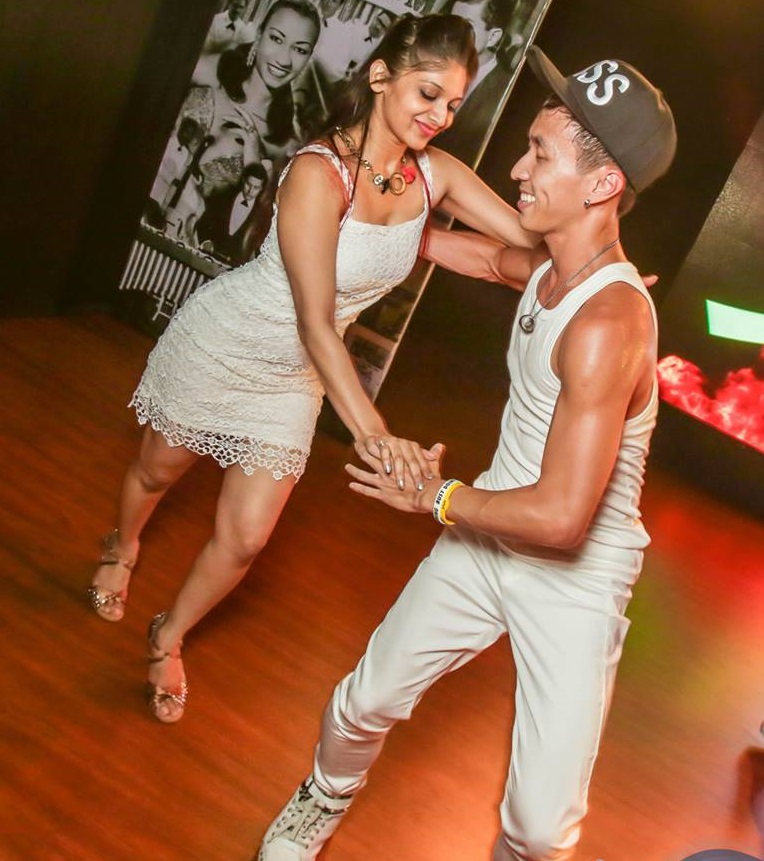 Click image for video
This form of street dance has its roots from the Caribbean (especially in Cuba and Puerto Rico), Latin and North America along with a strong African influence in the music as well as the dance.
The dance originated through the mixture of Mambo, Danzón, Guaguancó, Cuban Son, and other typical Cuban dance forms.
Today, the most prominent forms of salsa are LA, New York, Cuban, Colombian, and Puerto Rican.
Salsa can be danced solo or with a partner though it is usually the latter. As a social dance, improvisation and spontaneity are always present.
Just like the sauce, salsa is hot, spicy, sometimes flirty and most importantly, fun!
Bachata
Click image for video
Bachata originated in the countryside and rural neighborhoods of the Dominican Republic. Characterized by themes of romance, especially that of heartbreak and sadness, the genre used to be known as amargue ("bitterness," or "bitter music") until the term Bachata became popular.  Today, it is a very beautiful, sensual and romantic form of social dance!
E.Motion Bachata 
At En Motion, we have incorporated both open and close hold styles into our classes. Particularly, we incorporate a unique close-embrace hip leading technique where the connection of hips and body isolation movements are infused into the dance. This ensures control over both weight transfer and hip movement which helps in ensuring synchronization of movements for both male and female (this includes the hip movement which is largely isolated in all other styles).
In addition, we have infused elements of many other different dance forms such as Tango, Jazz, Hip Hop and so on, into our syllabus. Another important component is the interpretation of different Bachata songs in a beautiful and artistic manner so that the dance may be felt even more deeply.
Zouk
Click image for video
Brazilian Zouk has captured the hearts of many people around the world and has recently started being called "the dance of love" with its strong, flowing movements
Also known as "Zouk-Lambada", Brazilian Zouk is a sensual partner dance with origins in Lambada (aka "the Forbidden Dance") and danced to "Zouk" rhythms made popular in the French Caribbean. These days the dance has developed deeply with influences from classical dance, street dance and other partnered styles (Forro, Samba, Salsa, etc.). The music that we dance to has also evolved with the introduction of various genres of music (i.e. hip hop, R&B, pop) that have similar rhythmic structures and/or a danceable lyrical component.
Zouk is known best for flowing motion and upper body movement (i.e. body waves), giving rise to the woman's dramatic "hair flicks". The dance focuses on partner connection. Dancers often deviate from the general rhythm to allow for musical interpretation. The pace of the dance is generally slow and smooth.
Trained under 2 of the best world renowned Zouk artists from Brazil, Dadinho & Aline (as in video), En Motion provides the Modern Style Zouk which is popular and easy to dance with upbeat Hip Hop R&B music with Zouk rhythms.